Anguilla (Ann Gwill' Uh), the small Caribbean Island nation due east of Puerto Rico, has hit the target for those seeking asset protection and financial privacy. Anguilla stepped into the offshore financial services champion's circle by enacting the Limited Liability Company Act under the Revised Regulations of Anguilla on December 15, 2000. The Anguilla LLC act possesses some of the strongest asset protection and privacy regulations of any offshore haven on the planet. The brilliant forethought of the Anguilla government has also provided for the fastest company filing system available anywhere in the world. A company can be formed any time, 24 hours per day, keeping up with the speed of today's business environment.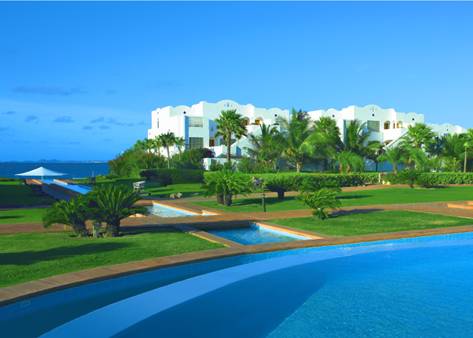 Anguilla LLC Offshore Privacy and Asset Protection
When a member of an Anguilla LLC is sued and a judgment to pay money is issued against the member, the judgment creditor (someone who has sued the member and won) is not legally allowed to touch the assets inside of the Anguilla LLC. The judgment creditor can touch distributions that are paid to the member if they were to be paid. However there is no law requiring distributions to be made. This means that if the member or members decide not to make distributions, the judgment creditor receives nothing and the member's assets remain safely inside of the company. They are an assignee but not a member. They cannot vote, they cannot legally require payment. You remain in control, retain voting rights and can keep the assets inside of the company as if there was no judgment. See the statutes below.
R.S.A. CHAPTER L65, Part 7, §47 (1)-(3)
Right of judgment creditor
47. (1) On application to the Court by any judgment creditor of a member, the Court may charge the economic interest of the member with payment of the unsatisfied amount of the judgment.
(2) To the extent so charged, the judgment creditor has only the rights of an assignee of the economic interest.
(3) This Act does not deprive any member of the benefit of any exemption laws applicable to his member's interest.
The definition of "economic interest" provided in the statues is as follows: "…'economic interest' means a member's share of the profits and losses of an LLC and a member's right to receive distributions of the LLC's assets…"
So, how do you get money out of the company when you are sued? Many company owners simply have their company hire family members who, in turn, pay obligations for the members. In addition, if the judgment creditor is in the US, the person who obtained charging order against our Anguilla LLC will be required to pay taxes on the earnings of the company whether you distribute the money to the creditor or not. In other words, if your legal adversary issues a charging order against your interest in company and your company makes a profit, your opponent is required to pay taxes even if you do not distribute money out of the company. This gives the person who sued you and won a tax liability and rather than an income stream. This legal "poison pill" provides a substantial asset protection and lawsuit prevention benefit.
In addition, your opponent at law is not legally allowed to jump into your shoes and become a member unless you or the majority of other members vote him or her in. Naturally, if you and/or your friends and family are the only members of the LLC, you will not cooperate with a legal opponent. The only two ways to become a member are if the existing members vote in the new member or if the operating agreement so allows. You will not vote to bring your legal enemy into the company. Moreover, the documentation provided with your company does not allow an outsider to take over your membership position with the company. The statutes covering this issue are below.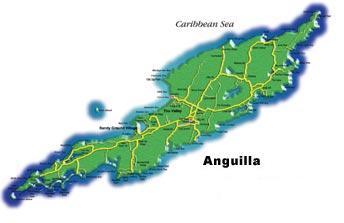 R.S.A. CHAPTER L65, Part 7, §48 (1)-(3)
Right of assignee to become member
48. (1) An assignee of a member's interest may become a member as provided in the LLC agreement—
(a) with the approval of the members of the LLC other than the member assigning his interest; or
(b) upon compliance with any procedure provided for in the LLC agreement.
(2) An assignee who becomes a member has, to the extent assigned, the rights and powers, and is subject to the restrictions and liabilities, of a member under the agreement and this Act.
Many experts agree that the strongest asset protection package created when the Anguilla LLC is combined with the Cook Islands trust. The Cook Islands, located south of Hawaii, have exceedingly strong asset protection trust law. The Anguilla company holds the offshore bank accounts. The client is the manager of the company. The company is 100% owned by the Cook Islands trust. So, when the local judge demands payment to the creditor, the licensed, bonded trustee, who resides outside of the judge's jurisdiction becomes manager of the company and refuses to comply.
Why Anguilla?
Here are some important factors to consider when making a decision on the offshore domicile in which to form a company:
Political Stability; Government's Policy of Maintaining Offshore Haven Status; Confidentiality and Anonymity Provided by Statute; Tax Exemption Provided by Statute for an Anguilla LLC (though individuals must follow tax laws of their home countries); Excellent Communication Facilities; Accessibility of Offshore Haven. The advantages of Anguilla provide for a stable, convenient and discreet domicile to carry out business activity when the use of an offshore haven would be beneficial or necessary.
The Anguilla Limited Liability Company act of 2000 provides an exceptionally flexible business statute incorporating both the asset protection provisions inherent in Nevada and Wyoming statues as well as English common law ideals.
– No taxes are imposed in Anguilla LLC upon income (though, again, individuals must follow tax laws of their home countries).
– Anguilla LLC law offers superior asset protection to corporation or LLC law of other jurisdictions.
– Anguilla asset protection provisions are superior to other countries
– Anguilla distributions which are not earned on the island are free from local tax (as we have said, company members and managers must follow tax laws of their home countries).
– Annual reports or financial returns are not required
– The company can own an offshore bank account for enhanced privacy
– Principle office and records for the company may be located anywhere in the world
– Members or managers need not be citizens or residents of Anguilla
– Another LLC or a corporation may act as the manager
– Bearer membership certificates are not forbidden by statute
More Anguilla LLC Benefits…
– Limited business activity may be carried out in Anguilla while still maintaining tax exemption (individuals must follow tax laws of their home countries).
– Anguilla companies may redomicile into and out of Anguilla
– A Manager of an Anguilla LLC may be appointed to guide the activities of the company
– Managers may act by unanimous consent without a meeting
Support for Business
In conjunction with our resident Anguilla associate, we perform legal document filing service and the following support services to ensure compliance with the Anguilla Limited Liability Company Act.
– One hour Anguilla company formation service
– Virtual office program with telephone, fax and mail forwarding
– Offshore bank account services
– Return of official documentation evidencing formation within one week by courier
– Fax filings and transmission of evidence within hours of filing
– Immediate name clearance
– Rapid company status advice and issuance of filing certificates
– Inexpensive formation and annual charges
– Already filed companies for emergency situations
– Resident management services when required
– Sample documentation for assistance in preparation
– Copies of The Anguilla Limited Liability Company Act of 2000
– Saturday filings available
– Formal Name Reservation procedure
– Assistance in obtaining Legal Opinions from local Anguilla counsel
Profile of Anguilla

The New Business Gem of the Caribbean

Christopher Columbus discovered Anguilla on his second voyage in 1493. Wealthy in both natural beauty and historical significance, it was in 1650 when Anguilla was initially colonized. English settlers discovered that the soil in Anguilla was superb for cultivating corn and tobacco. So, plantations were instituted. Immigrants from South American occupied the island 3300 years earlier. However, when the Europeans arrived on the island there were no more Amerindians occupying Anguilla. By the year 1656 natives from a nearby island destroyed the European settlements.
Anguilla was overseen by Great Britain until the early 1800's, when the island – against the desires of the inhabitants – was consolidated into a unified British dependency, along with neighboring Saint Kitts and Nevis. Several attempts at succession failed. Then, on May 30, 1967, celebrated today as Anguilla Day, the Royal St. Kitts Police Force was repelled from the island. Britain became involved and a peacekeeping committee was created. Debates over Anguilla's succession continued to be negotiated for another decade until, on December 19, 1980, Anguilla officially became a separate entity from its two Caribbean neighbors.
Europeans changed the name of the island from Malliouhana (which meant arrow-shape sea serpent) to Anguilla ("anguille" is French for "eel"), thought to be for the island's long, sleek shape. The highest point, Crocus Hill, located near the center of the Island, rises just 213 feet (65 meters) above sea level.
The tropical climate is nearly perfect with an average temperature of 76 degrees Fahrenheit (24 C). The temperature rarely exceeds 85 F (29 C) or drops lower than a mild 72 F (22 C). The pleasant climate and lush soil gives this 39-square-mile island a natural beauty full of lush green vegetation ranging from rain forest to near desert. Brilliant flowers and exotic fauna abound.
The island boasts 33 magnificent beaches and crystal clear waters. The top rated beach is Shoal Bay East. This is a 2-mile strand of perfect white sand has been pegged as the world's best beach (not just the Caribbean's) by many well-respected tourist magazines. The delicate, powdery sand stretches a mile, proceeds to a point with some breathtaking reefs, and then continues an additional mile. Numerous desirable beach bars and inviting open-air restaurants line the beach.

The luxurious 5 star Crusinart Resort and Spa boasts 93 luxurious guest rooms and suites. It is graciously expansive with rooms ranging from 900 to over 7,500 square feet. Rooms offer extraordinary sea views, a full-service spa, salon and fitness center. A variety of cuisine from the two on-site restaurants is complimented by the plush resort's unique hydroponics farm and organic gardens which are selectively harvested daily to provide for the freshest of cuisine.
We highly recommend accommodations in one of the 27 unique hotels and inns, most of which are nestled along one of many gorgeous beaches. They possess a relaxing ambiance and attract upscale visitors, many of whom return annually. A tourist may visit art galleries, take excursions to historic sites and museums, go horseback riding, dance to island beats, take jaunts to the undersea world, go sailing and snorkeling, or spend quiet days basking in the sun and enjoy the simple pleasure of sunset strolls.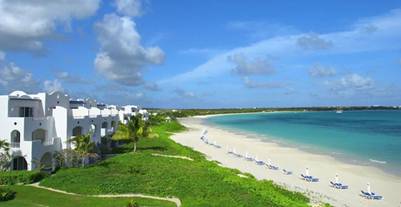 The visitor attracted to Anguilla usually appreciates the historical character of the island. Today's population is about 13,500, which is about double the population in 1985. American University of Antigua Medical School boasts the only hospital-integrated medical school in the Caribbean. Medical care is respectable for Caribbean standards with the average lifespan on the island at nearly 80 years.
Leading into the 1800's Anguilla maintained a plantation economy like the majority of the Caribbean. Rum, sugar, cotton, indigo (a purple dye), fustic (a yellow dye) and mahogany wood were its chief exports. Because rainfall is not as abundant as other local islands and the soil conditions did not accommodate sufficient crops for a sustained plantation economy, estates were small and could not employ many slaves. Those who were employed spent a majority of their time tending their own food plots instead of the plantation. Eventually, workers began to develop into sole peasant proprietors, fisherman or sailors, which enhanced their personal independence. By 1833 the British Parliament enacted the Emancipation Act, freeing the slaves, which was put into action in August 1, 1834. By this time the population on Anguilla had decreased to a mere 1,956 inhabitants.
Rich in culture, the local holidays and festivals are centered on historical events. Anguilla's most spectacular display is the Summer Festival, beginning August Monday at 5 am with J'Ouvert Mornin,' a daybreak jam through the streets to celebrate emancipation. Nearly two weeks of dancing, competitions, fairs, costumes and parades liven up the evenings with stunning color. During the daytime, as with most of Anguilla's major holidays, the island is overflowing with the excitement of beach picnics and Anguilla's national sport of boat racing,
You will find the people of Anguilla to be calm and cheerful. The island is mainly Christian in denomination with nearly one church for every two square miles. British holidays such as the Queen's Birthday, Whit Monday and others are celebrated, but this English speaking nation preserves a unique balance of all its historic inspirations that make this island a truly unique get-away.
The economy is based on luxury tourism, offshore banking, lobster fishing, and remittances to family members from those who have moved abroad. The gorgeous beaches have steadily increased activity in the tourism industry, which has sparked the expansion of the construction sector. This growth has contributed to economic stimulation. Anguillan officials have exerted substantial effort into building the offshore financial sector, which is growing substantially. So, the government officials have a strong economic incentive for the financial privacy and asset protection legislation to remain strong for the long-term.
Following its heritage, the traditional head of state is the Queen of England represented by the governor. The head of government is the Chief Minister, who actually oversees the government. The Executive Council is appointed by the governor from among those who have been elected as members of the House of Assembly (similar to the Congress in the US or House of Lords in the UK). The House of Assembly includes eleven seats total, seven of whom are elected by direct popular vote by the people. Two are ex officio members (members because of their position in the government), and two are appointed. Members serve five-year terms.
Anguilla's crime rate is exceedingly low. Crime is so rare that one of the most luxurious hotels, Cap Juluca, has dispensed with room keys. The locals boast of crime being practically nonexistent on the island. One local lady expressed here heartfelt sentiment that her island as "a Christian community." "There's no crime here," she said.
The per capita income is about U.S. $8,600.00 annually. The political parties reflect stability that follows their British heritage.
Telephone and internet connectivity are widespread across the country. Cable and Wireless has since installed a state-of-the-art fiber optic digital system. Standard and cellular telephone service is available throughout the island. Any part of the world may be direct-dialed from Anguilla without ease. There are nine radio stations and one television station. Most television channels available to the locals are US-based.


The Wallblake Airport (airport code AXA) is located in The Valley, which is Anguilla's capital. The runway is 3600′ long, more than enough to handle the commuter planes that bustle in and out of the airport. Most flights are to and from Puerto Rico. In addition to San Juan (Puerto Rico), flights are also available to St. Marteen, St. Thomas (USVI), Antigua, St. Kitts and Nevis, plus charters to St. Barts, and more. The best way for you to obtain an appreciation for this beautiful country and its corporate program is, of course, for you to visit. If that is temporarily impractical, please allow Companies Incorporated the chance to demonstrate to you its commitment to prompt and outstanding service to the international business community. Companies Incorporated is the one of the sole Western US management consulting firms offering Anguilla corporation formation.
An important note from the President of Offshorecorporation.com (a division of Companies Incorporated – since 1977) about the search for Anguilla
We spent much time and travel looking for an offshore domicile that we could honestly recommend to our clients seeking the asset protection and privacy offered by a business base outside of the United States. There are literally hundreds of places promoting their spot as the best.
The one thing I insisted on was absolute propriety, where there would be a meticulous regard for international law and the laws of the United States. No phony banks, no money laundering, no tax evasion. There have been episodes of that around the world, and I wanted no part of it.
So when I finally looked in depth at Anguilla and met with current and former government officials in person and by phone, I was intrigued. The more I looked, the more convinced I became that we had found a truly peaceful, law-abiding base for our clients seeking privacy and asset protection.

The fact that Anguilla LLC law and legal protection provisions substantially largely based on U.S. and British statute were some of the first features of the legislation that intrigued me. That meant no significant legal concerns in understanding how to conduct business there.
The majority of our clients are looking to increase profits around the globe and enhance their financial privacy and protection. They want to be free of burdensome legal requirements that they face in many countries. They want a secure, reliable domicile, a locale where they know the laws will be fairly and honestly administered. That bought us to Anguilla. Believe me, we have been communicating with officials in Anguilla for years before we made the decision to recommend this country. With our long history, since 1977, doing business with tens of thousands of clients and our reputation to uphold, we are sure to steer away from anything but the very best for our treasured clients.
There were other considerations. We had to see Anguilla LLC's from an objective business vantage point. Knowing that our clients rely on us for recommendations we looked for a base that offered these advantages:
– No disclosure of Owners, Managers, Officers, or Directors.
– Strong, safe banks.
– No requirement for annual accounting in the jurisdiction.
– Freedom to locate offices and records in any country
– Ability to retain absolute control without ownership.
– No need for any of the managers, officers or directors be citizens or residents of the country.
– No prohibition against bearer shares or membership certificates
– Authority to redomicile the company into or out of the country.
– Strong privacy laws.
Anguilla LLC's more than passed our test
Underlying all of our research is the fact that Anguilla is a politically stable, democratic country. That is why I earnestly recommend that any of our clients who want to reap the advantages of an offshore jurisdiction should strongly consider Anguilla. I believe that there are multitudes of businesspeople that are simply not aware of how they can take advantage of an offshore safe haven. Asset protection and financial privacy are two of the chief benefits.
With trial lawyers cutting a wide swath into business today an offshore base could be the most economical form of insurance that a company can attain. The US is in the middle of a lawsuit boom. I think that Anguilla is the kind of financial fortress that is needed to seek refuge from the legal hand grenades that are being lobbed at today's businesspeople.
– Rather than the usual $5,000 US to $8,000 US for an offshore company, an Anguilla LLC is only $1495 US.
– An offshore bank account is only $350 US.
– The total for an Anguilla LLC plus offshore bank account is only $1845 US.
We also offer the Anguilla Office Program which gives you a local office address with mail forwarding, a shared telephone number answered by a live receptionist during working hours, a recorded message after hours, and a local fax number. For extra legitimacy and privacy, you can place your Anguilla Office Program address, telephone number and fax number on your website and on company letterhead. The Anguilla office program can be added for only $995 US.
We highly recommend our full management contract, that for only $3,495.00, will cover all of the following services listed below, including company formation at no extra cost. This Fiduciary Structure will have a $2,495.00 annual renewal fee. Let our experienced team of experts take care of your asset protection and privacy needs. See what is included below.
Anguilla Complete Management Package
The Anguilla Complete Management Package Include the Following Services:
– Formation of an Anguilla asset protection Limited Liability Company (LLC)
– Offshore bank account in Class A top-rated bank (at time of incorporation)
– Caribbean mailing address with mail forwarding
– Caribbean telephone number answered by a live receptionist
– Caribbean fax number
– Annual registered agent fee
– Annual government fee
– Maintenance of bank accounts
– Nominee directors & officers
– Debit card (at time of incorporation)
– Invoicing or re-invoicing (12 per year)
– Brokerage accounts (at time of incorporation)
– Online access to bank and brokerage account
– Power of attorney giving you 100% control
It just makes good sense to explore your options these days. Please feel free to call just to talk it over—call 1-888-338-9868 or 1-661-253-3303 or order online by clicking the link below.
In addition, feel free to view our Anguilla Virtual Office Complete Management Package.